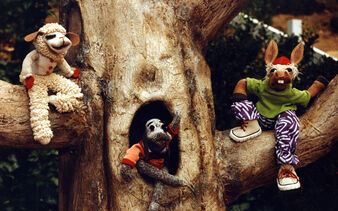 Role in Discord Arc
Edit
Charlie horse is working on the projects. Lamb Chop and hush Puppy was worried. Bowser, and Dune poped ou of the screen. Discord poped out, too. He made a fun of them. Bowser burned them alive.
Lamb Chop
Edit
She is a fictional ewe puppet, She is a sock puppet first made by Shari Lewis. Shari Lewis was a comedienne and ventriloquist, in 1957 Lamb Chop appeared with Shari Lewis on the television show Captain Kangaroo. During the 1960s, Shari Lewis had her own musical-comedy network television show. After most Children's television programs turned to animation, she still continued to perform venues. In 1992 Lamb Chop and Shari Lewis began a television show on PBS called Lamb Chop's Play-Along, an Emmy Award winner for five years. After Shari Lewis's death in 1998, Lamb Chop continues to be voiced by Shari's daughter Mallory Lewis.
Charlie Horse
Edit
He likes that the pizza parlor is named after him. He sometimes suffers from a mild case of "bigshotitis" but he is a great big brother to Lamb Chop and Hush Puppy. Charlie loves bugs, worms, snakes, horror stories and anything else that will gross out Shari and his two younger siblings. Charlie loves to play his drums.

Charlie is best known for singing "The Song That Doesn't End" at the end of Lamb Chop's Play-Along, when Shari Lewis tries to stop them (the children, Lamb Chop, Hush Puppy, and Charlie Horse) from singing they leave, making Shari feel finally relaxed that the song was over. However the next second the barn (used when the song was playing) opens up with Charlie Horse who has come back to get the song going again but he is eventually stopped by Shari, who grabs him by the nose while telling him to stop, and this time succeeds, tells him to "go away", but before she tries to tell him another thing, Charlie Horse slams the door. Shari was actually trying to tell him not to slam the door.

The character's name is a pun on the medical condition of the charley horse, which is known to be a general, but very intense, leg pain. The pain is typically deep within the knee joint, in the ACL area, making walking and movement quite unbearable.

Charlie Horse later starred in his own spin-off show, Charlie Horse's Music Pizza, about a singing pizzeria.
Hush Puppy
Edit
He is definitely man's, and lamb's, best friend. He is a real buddy who will always help you when you need it. Hush Puppy is happiest when there is a good mystery to solve and loves to play any kind of music, as long as it's fast.
Ad blocker interference detected!
Wikia is a free-to-use site that makes money from advertising. We have a modified experience for viewers using ad blockers

Wikia is not accessible if you've made further modifications. Remove the custom ad blocker rule(s) and the page will load as expected.