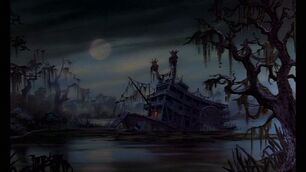 Devil's Bayou
is a swampland in Louisiana and the hideout of the
Black Spawn
and his brother,
Skulduggery Pleasant
. They also kidnap the poor girl,
Arella
, and force her daily into an underground pirate's cave to search for the rare diamond, the Devil's Eye. Spawn's riverboat is located here and is his main hideout and where she keeps Linda when she not looking for the Devil's Eye.
The river boat hideout is three floors high and has an elevator. The river has crashed with a rock and some of the stern decks are underwater. Linda's room is the pilot-house where the boat's wheel is, only the wheel and the compass had been removed to make Linda's fold-up bed. The only thing standing is the telegram that sends messages to the boiler room. The lounge is where the staircase and pipe organ are. The boiler room is full of Skulduggery Pleasant's fireworks. The two funnels in front of the river boat are used as chimneys from the cargo hold to light up fireworks to find Linda if she escapes from the ship.
Inhabitants
Edit
Black Spawn
Astra Spawn
Skulduggery Pleasant
Ad blocker interference detected!
Wikia is a free-to-use site that makes money from advertising. We have a modified experience for viewers using ad blockers

Wikia is not accessible if you've made further modifications. Remove the custom ad blocker rule(s) and the page will load as expected.