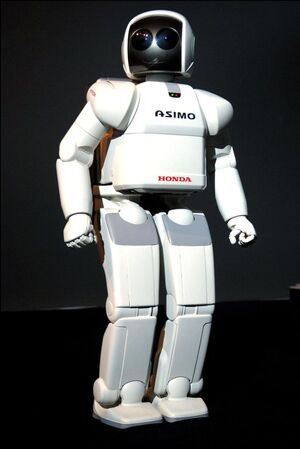 Benzy (aka Chow) is a
humanoid robot
butler of the
Dimitri Blowhole and
his Family household. He knows that Dimitrt is secretly Mr. Robot and aids him. Benzy, after he was built, was employed as the Blowhole family butler. His many skills--ranging from cooking to medicine--make him Dr. Blowhole's staunchest ally, along with a formal demeanor that grounds the heroes and deflects those who might otherwise suspect Mr. Roboto's true identity.
Appearence
Edit
His race is ASIMO Robot. He was white. His face and eyes are black. Benzy is an excellent butler and manages to keep the Black Castle of Death and ??? both clean. He also is an excellent server.
Attributes
Edit
Skilled actor
Trained in emergency medical techniques
Proficient with mechanical and computer systems
Expert in domestic sciences
Unflappable manner
Unlike Dr. Blowhole, perfectly willing to wield firearms during times of crisis
Ad blocker interference detected!
Wikia is a free-to-use site that makes money from advertising. We have a modified experience for viewers using ad blockers

Wikia is not accessible if you've made further modifications. Remove the custom ad blocker rule(s) and the page will load as expected.