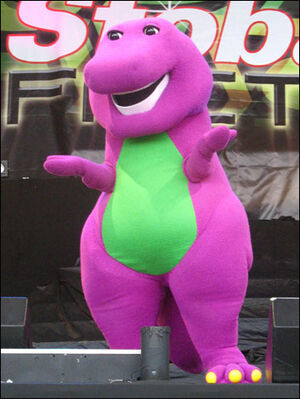 Barney the Dinosaur is a two hundred million year (two dinosaur years) old, six-foot tall, purple tyrannosaurus rex with a green tummy, who comes to life through a child's imagination. He is best known for his friendly, optimistic (and even generous) personality, his positive attitude. His catchphrases are "Super-deeee-dooper" and "Stu-u-u-u-u-pendous!" and his theme song is the "Barney Theme Song". His other well known song is "I Love You," which is sung at the end of almost every episode. Barney likes most kinds of food, but his main favorites include vegetables, and (of all things) peanut butter sandwiches.
Barney was first created in 1987 by a woman named Sheryl Leach, who was looking for a way to entertain her then 2 year old son, Patrick. Another key Barney creator, Kathy Parker, also helped on the idea. She was the one to come up with a teddy bear for a character, since Kathy's daughter had a stuffed teddy bear. However, Patrick was facinated by a dinosaur exhibit at a museum, so they made the character a dinosaur, but on the condition that he was not to appear menacing. So, he was colored purple to appeal to both genders and named Barney.
Since Barney in Concert, Barney has been a magenta color technically. Since then he has changed his appearance slightly and gotten a lighter magenta color over time. Despite this, his color is only claimed as purple by HIT Entertainment.
Some concept names for Barney were Cosby, Colby, and Danny.
Ad blocker interference detected!
Wikia is a free-to-use site that makes money from advertising. We have a modified experience for viewers using ad blockers

Wikia is not accessible if you've made further modifications. Remove the custom ad blocker rule(s) and the page will load as expected.