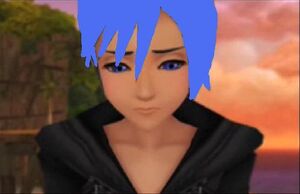 Arella is a denizen of the extradimensional realm of
The Empire of Heroes
and the daughter of the
Tigger
and a Half-siter to
Odd Della Robbia
.
Father: Tigger
Half-Sister: ???
Half-Brother: Odd Della Robba
Personality
Edit
Arella is a very peaceful, controlled woman, but also rather fatalistic like her Father, mainly due to the part she had unwittingly played in Falica's scheme. He was a niece of Dr. Blowhole and King Snorky.
Powers and abilites
Edit
Arella seems to be able to wield some sorcerous abilities, enough to leave a projection of herself and their realm for her Father even after Dr. Blowhole had devastated Empire of Heroes. It was then revealed that Her birthland had already been destroyed, and that Arella may be presumly dead. Although this is debatable, she must had given Malforn her last words through a telepathic imprint of some sort. The true extent of her powers are unknown, though evidently they were unable to shield herself or Empire of Heroes from Azula's own wrath.
Appearance
Edit
Arella's Organization coat is similar to the one Roxas wears, with slightly pointed shoulders and closer-fitting sleeves. She also wears the more feminine, heeled boots that Larxene wears and the basic black gloves. Physically, her blue eyes and her hair is black and her bangs part on a different side. She is slightly shorter than Roxas.
Ad blocker interference detected!
Wikia is a free-to-use site that makes money from advertising. We have a modified experience for viewers using ad blockers

Wikia is not accessible if you've made further modifications. Remove the custom ad blocker rule(s) and the page will load as expected.